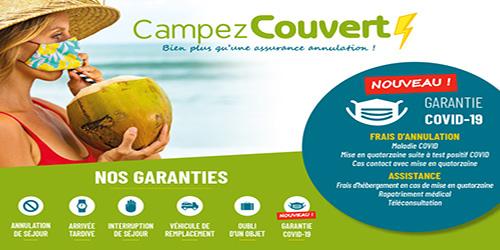 Stay safe with our travel insurance!
The cancellation insurance included in all our prices now covers the risks related to the Covid 19 epidemic.
Travel with the tranquility of a complete travel insurance and updated to the new reality of the pandemic caused by Covid-19.

Prevent unforeseen events related to COVID-19 with "Campez Couvert" travel insurance:
Cover for cancellation costs in the event of :
COVID Illness:
Cancellation for COVID illness declared in the month preceding departure in the event of an epidemic or pandemic*.
Quarantine:
Cancellation following quarantine in the event of a positive COVID test*.
Self isolation:
Self isolation following close contact with someone who has coronavirus (advised by local health authorities), awaiting a COVID test or awaiting the test result*.
Denied boarding:
Cancellation for denied boarding following temperature measurement at the airport or train station*.
Assistance – COVID-19:
Teleconsultation service:
Provision of a teleconsultation service before departure in case of doubt about your state of health*.
Repatriation:
Medical repatriation including in the event of an epidemic or pandemic as well as repatriation following flight cancellation due to an epidemic or pandemic*.
Accommodation costs:
Cover for accommodation costs following quarantine or cancellation of flight due to epidemic or pandemic*.
Medical fees:
Cover for medical expenses outside the country of residence following COVID illness, including in the event of an epidemic or pandemic*.
Psychological support:
Psychological support unit in the event of an aggravated COVID illness of the insured person*.
*
All the guarantees listed in this article represent a simple non-contractual summary of the contract guarantees. As the insurer is only bound by the full text of the contract, you can view the entire contract at any time
here
.